Marcus Michelen (BSE '14)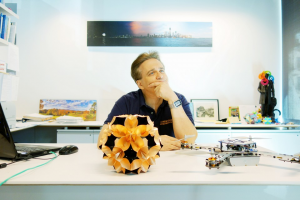 The Cooper Pioneer: At the end of last semester, ABET came to evaluate our engineering school.  How did that go?
Alan Wolf: We had an excellent visit. ABET reviewed 36 items and 33 of them required no change. The other 3 things are minor. ABET concluded their visit with a formal exit interview.  That meeting included myself, Assoc. Dean Delagrammatikas, President Bharucha, the four chairs of Cooper's degree granting departments, and from ABET the four program evaluators (PEV's) and the visiting team's chair.  They talk about strengths and perceived weaknesses of our programs.  They rate concerns on a scale that includes: deficiencies, weaknesses, concerns, and observations.
The program evaluators, as you'd expect, are experts in the discipline they come here to review.  So a civil engineering PEV would be a professor or dean of civil engineering at another institution.  At the exit interview each PEV reads their draft report, which begins with a brief history of the department and then proceeds to a review of what the evaluator found in their preliminary study of Cooper (they study us before they even arrive on campus) and in the on campus visit, which ran from December 2 – 4.  A sample comment might be: "Faculty seemed to be very engaged with their students" or "Alumni seemed to feel that…"  The team chair also read her report, which was concerned with the engineering school overall.
So, nothing particularly serious came up in the exit interview. There are some minor concerns that we are either obligated to respond to, or can choose to respond to. I'm very pleased. This is a good time to thank the faculty, students and staff who helped us in many diverse ways to show off the School of Engineering to its best advantage.  Special thanks to Cooper students Andrew Crudge and Mike Palafox, who designed and built our new faculty web site, https://engfac.cooper.edu/  Our visitors were impressed by the faculty and student work that is now on display there.
A few days ago we received a written version of their reports.  I haven't had a chance to review them yet.  We now have 30 days to respond.  Some departments, such as civil engineering, will not respond because nothing, not even a minor concern, was found in that department. Other departments may disagree with minor concerns, and they may wish to express those to ABET, or they may decide to change departmental practices to conform to ABET standards.
I should mention that the reports themselves are confidential.  Also, that it is nearly impossible for academic programs these days to get a "perfect" result, a clean bill of health, regardless of whether we deal with ABET (engineering accreditation) or Middle States (accreditation for the entire institution).
TCP: Do you think that the protests that occurred in early December will have any effect on our ABET results?
AW:  No.  I was at an AITU [Association of Independent Technological Universities] conference in San Diego recently.  One of the speakers at the conference was the head of an engineering accreditation organization, but a different organization (not ABET). It was a very interesting talk.  For example, I learned that accreditation began after World War II, when the G.I. bill allowed retuning soldiers to receive financial aid for college (among many other benefits).  The government was concerned that soldiers might be taken advantage of by educational institutions of poor quality.  Anyway, someone from another institution asked the speaker: "Do accrediting organizations care about a college's financial weakness or internal debates?"  Her answer was very similar to remarks made by the ABET team chair in our recent visit – such matters are not of direct concern.  If, however, things like financial problems point to underlying institutional problems that affect the school's educational mission, then they will receive an appropriate amount of scrutiny.  In any event, recent events at Cooper were not mentioned in our ABET exit interview.
The purpose of ABET is to make sure that you do what you've promised to do in your educational programs.  They want to check that there are procedures in place to fix things that are broken.  That includes insuring that we "close the loop."  What that means, formally, is that we use the results of 'assessment' to improve our institution, programs, and courses.  For example, at the level of an individual course, you, the instructor, have an idea of how you're going to teach a course.  You teach it.  You assess to see if your objectives were met.  If they were, great.  If not, the assessment (however that is done – there are a number of ways) is feedback to you that may suggest how to teach the course more effectively the next time you teach it.  They don't have the 'manpower' and time to see what actually happens in each classroom, but ABET does verify that the feedback loops are in place.
TCP:  Last December, it's my understanding that the engineering faculty prepared a document that was presented to Jamshed which was presented to the Board of Trustees.
AW:  We prepared five reports, they've been posted on the web and otherwise widely distributed.  We prepared an undergraduate tuition report, a graduation tuition report (that's a misnomer, it includes any program that generates revenue and is not an undergraduate program).  We also had three committees that weren't about revenue generation – for example a committee on the engineering school's culture.  The reports were given to the board with supplementary materials like Excel spreadsheets containing very elaborate models of revenue generation.  Our five reports totaled nearly 100 pages. I was told by some trustees shortly after the December 5th meeting that they were very impressed with our hard work, our creativity, and with the sophistication of our models. I'm very proud of the faculty for mobilizing on reinvention the way that they did.  The trustees are now studying our reports.  We expect to hear back from them in March.
TCP: In March?
AW: We had originally expected to hear something in December.  Then came the holidays, etc. Now they have to study our reports and our models.  That takes time.
I'm still not clear what will happen in March exactly.  Will they tell us our fate?  Perhaps.  Will they want to talk to us in March before deciding our fate?  Ask more probing questions?  Will we be contacted before March with those questions? I don't have answers to these questions.
TCP:  Do you have any information about who our permanent dean will be?
AW: On February 5th, we're getting an update from the search firm that has been seeking out candidates.  On that date, I think we're going to be generating a short list from the full list of plausible candidates.  We will rank them based on lots of criteria, such as their leadership style, their experience in financial and budgetary matters, their track record for building partnerships with the private sector, their commitment to undergraduate education, their passion for directly interacting with students, high energy and work ethic, and several other factors.  The firm has been helpful.  Two years ago the Dean Search Committee did a search without the assistance of a search firm, and we didn't find anyone who really excited the faculty.  The search firm hasn't just placed ads for the position, they went out to actively recruit candidates.
As you may notice, I have a new clock on my desk.  It's a countdown clock showing how many days I have left in my position as Acting Dean.  Right now, 118 days, 15 hours…  I'm eager to have a new Dean in place. It's interesting work, and I enjoy working with the President's leadership team, but this job, when done properly, requires an enormous amount of time and effort.  And a great deal of time spent in meetings.  I'm at 300-400 work-related emails a day, and can barely keep up.  So much time handling relatively minor matters that it is hard to find time for the bigger, more exciting tasks – like designing a program to be held this summer whose working title is "Cooper Invention Factory."  More on that soon!  So I will be the first person to champion any new plausible candidate (laughs).
We have a timeline for the selection process.  After we generate a short list of candidates there will be rounds of interviews, off campus and on campus.  There will be meetings with faculty, students, and administrators, and perhaps presentations to these groups.  We recognize that finding someone terrific is a challenge given Cooper's current financial situation and internal debates.  By the time we are closer to the end of the timeline, we will be past the March trustee meeting – so I expect that we will have some sense of the institution's fate.  There are people who revel in addressing challenges like this.  I hope we find someone like that – a fixer.
As for our financial challenges, Vice President Westcott is working very hard on a financial package that will keep us afloat until 2018 at which we get a few years of relief from the Chrysler rent bump.  If anyone can do it, it's TC.
TCP:  As head of the physics department, have you begun looking for a full time faculty professor to replace Professor Uglesich?
AW:  No new searches for faculty members right now.  We have a few departments in engineering that are losing visiting faculty or faculty through retirement, but until we know the fate of the school(s) it doesn't make sense to look for new full time faculty.  I hope to revisit this after the March meeting.
Photos by Jenna Lee (ME'15)