Chae Jeong (ChE '16)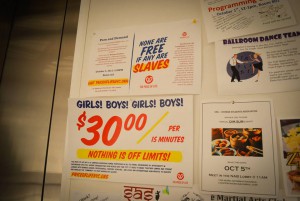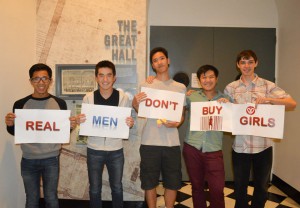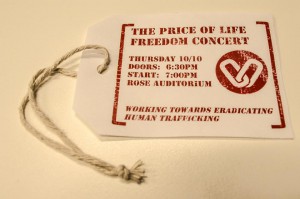 On October 10, over a hundred Cooper students joined in on a fight for justice through the Freedom Concert. The Freedom Concert was the last of a chain of events that identified a campaign called "Price of Life" during the first two weeks of October.
Price of Life is a faith-inspired but not faith-required campaign that happened within several campuses throughout New York City in hopes of raising awareness and fundraising to fight human trafficking. From chain tattoos to scandalous posters that read "Sex Slaves for Sale" to t-shirts that were stamped "Abolitionist", members of the student body worked to spread the word about modern-day slavery in the very city that they lived in.
The Cooper community was encouraged to come to events such as the screening of a film about sex and money, a talk about how pornography effects the human brain, a culture night where a trafficked victim shared her story, and, of course, a concert to celebrate hope and the coming of freedom.
The Freedom Concert consisted of acts from nearly all of the performing groups within Cooper –Ballroom Dance Club, Coopernova, Coopertones, CU Breakdance, Chinese Yo-Yo, Poco a Poco, and CU Gospel Choir –and several individual acts from students and staff –instrumental and vocal duets as well as a piano performance by Professor Daniel Lepek. In addition, Janie Chu, a musician who composes music to abolish modern-day slavery, played several pieces and Greg Jao, the director of InterVarsity Christian Fellowship in the New York and New Jersey, spoke about the Price of Life campaign.
In addition to the acts, other groups of students involved in SWE, Zeta Psi, ESC, Culinary Club, Confetti, and Origami Club contributed to the concert as well. From performing to ushering to making crafts to sell, the whole Cooper community contributed to this citywide campaign.
As the two-week campaign drew to a close, Price of Life held a citywide event called the Freedom Festival, where churches, campuses, and other organizations came together for a final push to fight human-trafficking.
All money raised during the campaign will be donated to the Humanitas Fund, where the money will be distributed to World Vision, Nomi Network, and Restore NYC, which are all organizations that work to fight human-trafficking. The Cooper community is encouraged to continue to work towards freedom by looking into buying fair-trade items and food, and by being aware of its surroundings.
NB: I was involved as the Publicity Chair/Social-Media Owner and head of the fundraising team.
Photo Credit: Jimmy Espinoza