Joseph T. Colonel (EE '15)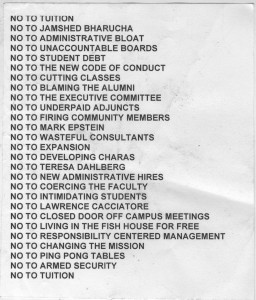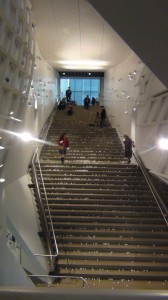 Student actions have been taking place on and off campus during this incredibly pivotal moment in the history of the Cooper Union for the Advancement of Science and Art. The summary below is intended to serve as a record of those actions as well as a catalyst for conversation.
December 3, 2013
At around 2:15 PM, small paper pamphlets were dropped from the ninth floor of the New Academic Building and floated down the empty space framed by the triangular staircases that connect the floors of the NAB (hereafter referred to as "the void"). Four distinct pamphlets landed on every floor of the NAB: a copy of an email by Dean Baker announcing the creation of the Ping-Pong club, a copy of an email by Dean Baker announcing that the Ping Pong club had purchased "5 brand new championship international tables," a statement detailing the concept behind the drop, and a list of grievances. Afterward 2,100 ping-pong balls marked with hand-drawn dollar signs were dropped down the Grand Staircase. A few minutes after the drop, students and faculty removed the balls from the Grand Staircase.
December 4, 2013
A march to Jamshed Bharucha's residence was organized. Students carried signs reading "Don't make school work / Make the school work" and "Jamshed Bharucha, how many Trustees does it take to screw the Cooper Union?" Police were seen entering the residence during the demonstration.
December 5, 2013
A march to Jamshed Bharucha's residence was organized. Upon arrival, students sang a rendition of the Christmas carol "Silent Night" entitled "Silent Prez" as well as a rendition of "Twelve Days of Christmas" entitled "Twelve Days of Reinvention." The lyric sheets for these carols can be found at pioneer.cooper.edu ◊
Photo Credit: Free Coooper Union