Caroline Yu (EE '15)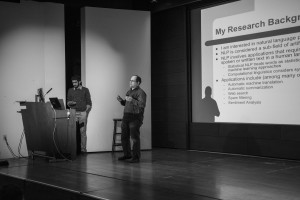 On March 31 Anita Raja, Associate Dean of Research and Graduate Programs, held Cooper Union's first March Madness research presentations event. Faculty members from each department shared their previous and current research projects. Professors had exactly three minutes to give their presentations. Pranav Joneja (ME '18) kept the event on schedule and Monica Chen (CE '18) helped coordinate the professors before it was their time to present. For information on the research conducted by each faculty member at Cooper, visit their page at engfac.cooper.edu as well as the new website on research at Cooper.
Anita Raja explains her inspiration for holding such an event: "When I joined Cooper last fall, I was tasked with helping facilitate the ongoing faculty and student research activities. Since then I have had the privilege of meeting with many of our faculty and students to discuss their research interests and projects.
" In February, we launched the engineering website cooper.edu/engineering/research which serves as a centralized launch point to learn about the exciting research activities happening across the College. The page also lists open research positions for students.
"March Madness was a second step towards establishing this framework of collaboration. We wanted it to be fun and we wanted students to see the exciting research questions our faculty are tackling – presenting them the opportunity to connect to faculty with similar interests. Almost 20 faculty signed up and their presentations were terrific. I also see the positive aspects of co-organizing events with students. Pranav Joneja was a huge help in helping me organize this event and he single handedly spread the word among students."
Raja hopes to hold research presentation events similar to March Madness each semester as well as regularly scheduled research seminars.