by Matthew Grattan (ChE '19)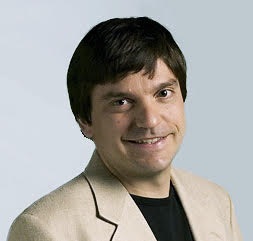 Where you are from and how did you hear of Cooper?
I'm from way upper Manhattan (now called "Hudson Heights") and discovered Cooper Union in my junior year of high school, when researching potential colleges. I was looking for a top school where I could pursue my interest in computers, and free
tuition certainly made Cooper stand out!
I moved to Seattle in 1990 to work for Microsoft and later, in 1994, founded eMedia Music, an educational software company. Over the years we've expanded into instrument and software bundles and distribution of other music related products. I'm running the business there, managing software development, and overseeing our sales/marketing and operational efforts. I'm based in Seattle but do get to New York regularly to support our operations and contribute to the effort to restore Cooper Union's free education mission.
You were elected to the Board of Trustees in 2015; how would you describe your involvement on the Board? 
Like all Cooper trustees, I share responsibility for the strategic development and oversight of the school. But it's no secret that alumni elected me, and I joined the Board, in order to help achieve an expeditious return to a stable, tuition-free, and thriving Cooper Union. To achieve those goals, the Board has to build trust and support through transparency, fiscal responsibility, and unity of purpose. I'm pushing hard and trying to spur discussion and
action on all three fronts!

"The Board will not authorize cuts that
compromise the education or safety of our students."

How would you describe your involvement with the Free Education Committee (FEC) so far?
The Free Education Committee was one of the new board structures dictated by the Consent Decree. Its role is to develop a comprehensive and viable plan to return to full-tuition scholarships for all Cooper undergraduates. I believe that the FEC is critical to the ultimate success of our efforts to restore Cooper's mission. That's why I pushed for its inclusion in the Consent Decree and sit on the Committee.
The FEC has to consider complex fiscal, legal, educational, and operational issues as it develops its recommendations. It's a massive undertaking. To date, we've been gathering information and studying past efforts. But I'd like to see us make more progress, faster, in developing a thoughtful framework for the plan to return to "free" as well as establishing extended working teams to pursue specific plan elements. I've asked the Board to consider adding more trustees to the Committee to help expedite that work.
As President of the Committee to Save Cooper Union (CSCU), you were one of the main petitioners in the lawsuit against the Board of Trustees. Some of the respondents of the lawsuit—such as current Chairman of the Board, Richard Lincer—are still trustees now. How would you describe the dynamic of your relationship with them now that you serve with them as a trustee?
Chair Lincer and the trustees have made a genuine effort to cordially welcome me to the Board. I truly appreciate that effort. For my part, I'm determined to work constructively with the Board and do my part in helping it be as effective as possible. Acting together as a unified and mutually supportive group is the best way to succeed.
Richard Lincer's term ends this December, what action will the Board take thereafter? What would you say is the main focus of the Board of Trustees looking forward?
After Richard Lincer's term ends, the Board will appoint another Chair. The Chair has a considerable amount of influence on the board­—for example, the Chair appoints all Committee Chairs and sets agendas for board meetings. It's premature to speculate on the focus on the board until the new Chair is in place.
How would you describe Cooper's current financial outlook especially considering our higher-than-normal proportion of non-instructional staff relative to students? What steps has the Board recommended to create a balanced budget?
At the June 2016 Board meeting the Board instructed Bill Mea to model and evaluate scenarios for additional expense cuts
between $5 million and $7 million. However, while it is critical that Cooper live within its means, the Board will not authorize cuts that compromise the education or safety of our students.
Scott Lerman (Art '81) joined the Board recently. Wasn't he involved with the Committee to Save Cooper Union? Could you describe his what he does with CSCU and the Board?
Yes, Scott is one of the important new voices on the board—as a former President and CEO of two leading global brand consultancies, and current CEO of Lucid Brands he brings valuable organizational and branding expertise to the board.
Scott was officially a strategic consultant to CSCU (pro-bono—we couldn't afford him otherwise!) and was directly involved in the Attorney General brokered settlement negotiations that resulted in the Consent Decree. He currently serves on the Communications and Development committees of the Cooper Board.
What do you think about electing Laura Sparks as President? What skills do you think she brings to Cooper?
The Board sought a 13th President capable of partnering with the Board to stabilize Cooper's finances, restore full-tuition scholarships for all, and advance the quality of the schools. Laura Sparks brings highly valuable experience and skills to Cooper Union. She has led a leading not-for-profit foundation, is knowledgeable about fund- and grant-raising, and has relevant financial expertise. Her proven abilities in uniting and inspiring diverse communities and raising institutional prominence coupled with her respect for Cooper Union's historic mission bodes well for our future. I have high hopes! ◊